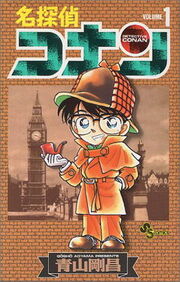 Case Closed, known as Meitantei Conan in Japan, is written by Gosho Aoyama and serialized in Shōnen Sunday. The first chapter appeared in the May 1994 issue and the series is currently ongoing, with 706 chapters published as of August 9, 2009.
685 chapters have been collected into 65 Tankōbon volumes and published in Japan by Shogakukan. The first volume was released on June 18, 1994, and volume 65 was released on August 18, 2009. The cover of each volume features the central character, Jimmy Kudo, in the form of Conan Edogawa. Each volume also includes a "Gosho Aoyama's Mystery Library" feature at the back, providing a one page biography of a fictional detective or criminal.
In North America, Case Closed is licensed by Viz Media. Twenty-eight volumes were released between September 7, 2004 and released on March 17, 2009. Viz continues to release the series bimonthly.
Chapters
Edit
Volume 1-10 - Chapters 001-100 Main article: Volume 1-10
Vol.
Chapters
Japanese
English
Release date
ISBN
Release date
ISBN
01
1-9
June 18, 1994
ISBN 4-09-123371-6
September 7, 2004
ISBN 1-59116-327-7
02
10-19
July 18, 1994
ISBN 4-09-123372-4
November 3, 2004
ISBN 1-59116-587-3
03
20-29
October 18, 1994
ISBN 4-09-123373-2
January 4, 2005
ISBN 1-59116-589-X
04
30-39
February 18, 1995
ISBN 4-09-123374-0
March 1, 2005
ISBN 1-59116-632-2
05
40-50
April 18, 1995
ISBN 4-09-123375-9
May 5, 2005
ISBN 1-59116-633-0
06
51-60
July 18, 1995
ISBN 4-09-123376-7
July 5, 2005
ISBN 1-59116-838-4
07
61-70
November 18, 1995
ISBN 4-09-123377-5
September 8, 2005
ISBN 1-59116-978-X
08
71-80
December 9, 1995
ISBN 4-09-123378-3
November 15, 2005
ISBN 1-4215-0111-2
09
81-90
January 18, 1996
ISBN 4-09-123379-1
January 17, 2006
ISBN 1-4215-0166-X
10
91-100
April 18, 1996
ISBN 4-09-123380-5
March 21, 2006
ISBN 1-4215-0316-6
Chapters not yet In Tanköbon volumes
Edit
File 697: A Fashion Curse!? (呪いのファッション!? ,"Noroi no Fasshon!?"?)
File 698: An Uncertain and Fragile Thing (不確かでもろい物 ,"Futashika de Moroi Mono"?)
File 699: Tomorrow is There (明日があるさ ,"Ashita ga arusa"?)
File 700: The Dangerous Area (危険なエリア ,"Kiken na Eria"?)
File 701: Hint of Red and 13 (赤と13の暗示 ,"Aka to 13 no Anji"?)
File 702: The Bomber's Aim (爆弾犯の狙い ,"Bakudan-han no Nerai"?)
File 703: The Truth Within the Snowstorm (吹雪の中の真実 ,"Fubuki no Naka no Shinjitsu"?)
File 704: Silent Clash (静かなる戦い ,"Shizuka naru Tatakai"?)
File 705: Kobayashi-sensei's Love (小林先生の恋 ,"Kobayashi-sensei no Koi"?)
File 706: Kobayashi-sensei's Misunderstanding (小林先生の誤解 ,"Kobayashi-sensei no Gokai"?)
File 707: The Sakura Girl is...? (桜の少女は? ,"Sakura no Onna wa?"?)
File 708: The Sakura in Full Bloom (桜, 満開 ,"Sakura, Mankai"?)
File 709: Eri Kisaki's Misfortune ((妃英里の災難 ,"Kisaki Eri no Sainan"?)
File 710: Raise and Lower? (落として上げる? ,"Otoshite Ageru?"?)
File 711: The Best Birthday (最高の誕生日 ,"Saikou no Tanjoubi"?)
File 712: Azure Dragon (青竜 ,"Seiryu"?)
File 713: Vermilion Bird (朱雀 ,"Suzaku"?)
File 714: White Tiger (白虎 ,"Byakko"?)
File 715: Black Tortoise (玄武 ,"Genbu"?)
File 716: Rooster Festival (鳥の市 ,"Tori no Ichi"?)
File 717: Monkey and 9 (猿と9 ,"Saru to Kyuu"?)
File 718: Naive Innocence (天真爛漫 ,"Tenshinranman"?)
File 719: Request from the Bottom of a Lake (沼底からの依頼 ,"Numatei kara no Irai"?)
File 720: The Kappa's Curse (河童の呪い ,"Kappa no Noroi"?)
File 721: The Kappa's True Form (河童の正体 ,"Kappa no Shoutai"?)
File 722: Steam Murder (湯けむりの殺人, Yukemuri No Satsujin?)
All items (1)